KurdishMedia.com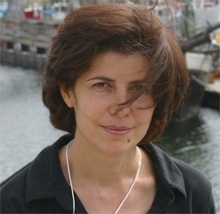 With the sudden steps of autumn, Kurdish poet Nazand Begikhani has started a new poetic season with readings in Norway and France.
Begikhani read some of her new Kurdish and English poems at the Bergen Public Library on September 9th. She was invited by the international organization for freedom of expression, ICORN (www.icorn.org ), and the Bergen Public Library to participate in a literary event, which gathered Kurdish and Norwegian poets and writers.
On September 29th, Begikhani will participate in the International Poetry Festival in Paris. She will be reading in Kurdish and French at the prestigious Auditorium St German in central Paris, accompanying famous Armenian doudouk player Levon Minassian and his musicians.
(see http://www.poetesaparis.fr/programmegeneral.pdf) also (http://www.billetreduc.com/29667/evt.htm
On November 22nd, Begikhani will walk down by the Seine River to read at the Dansoir Karine Zaporta in Paris's thirteenth district. She is invited by Mairie 13 and cultural advisor at Montparnasse Museum Mme Zana Victor.
Nazand Begikhani is a Kurdish poet from Southern Kurdistan, who has been living in exile (Denmark, France, UK) since 1987. She holds a Ph.D in comparative literature from the Sorbonne University and currently works as Senior Research Fellow at the University of Bristol.
Begikhani has published five poetry collections in Kurdish and one collection in English, Bells of Speech (ambit, 2006). A collection of her poems will be published in French next spring by Paris-based publisher Les Amandiers. Her collection, Bells of Speech, has been translated from Kurdish into Arabic by Keys Qaradaghi and Muhammed Husseini and will be published by the Damascus-based publishing house, Dar al-Zaman, in the near future.
Begikhani is also an active researcher and advocate for human rights in general and women's rights in particular. She has published book chapters, articles and reports in Kurdish, English and French. She has also translated selected poems of Baudelaire and T. S Eliot into Kurdish.

Source: KurdishMedia.com